Oracle Database 18c (18.3) for Linux x64 (VBox Virtual Machine)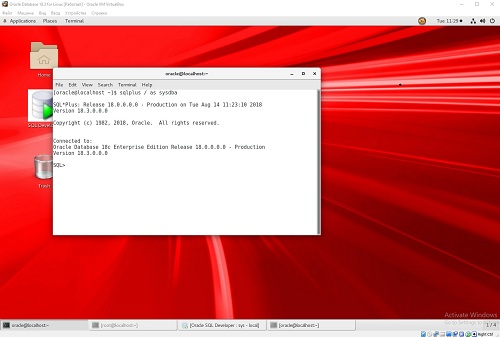 Oracle Database 18c (18.3) for Linux x64 (VBox Virtual Machine) | 5.81 GB

The release includes:
Oracle Enterprise Linux 7.5 x64 (full free copy of RHEL 7.5)
Oracle Database 18c (18.3) Enterprise Edition for Linux x64
Oracle Enterprise Manager Express – Oracle Database Management Tool
Oracle Application Express 18c is a customized free web application development tool from the manufacturer, full details can be found here: http://otn.oracle.com/apex
Oracle SQL Developer 18.2 – DBMS Development Tool
Purpose:
Your attention is invited to a virtual machine for those who are working and want to explore the database Oracle Database 18c.
Link to the Oracle Database 18c distribution (who wants to install it all by himself):
Oracle Database 18c (18.3) (Linux x64)
List of new features:
Oracle® Database 18c New Features
Features:
Requirements: 30Gb on hard disk and 6GB of free RAM (8 GB recommended).
One non-container orcl database (non-CDB) has been created!
All the latest patches are installed on the DBMS.
1) Ext4 file system is used as a file storage location.
2) VirtualBox Additions are installed in the virtual machine
3) Only the minimum set of packages required to run the Oracle Database software is installed.
4) Installed a Linux kernel from Oracle (Unbreakable Enterprise Kernel 5).
5) The update of the yum-repository is configured via public-yum.oracle.com and all updates on the OS are installed on 08/10/2018
6) Five disks are created in the virtual machine:
the first system – 15Gb (system.vmdk file);
the second for the swap file, 20Gb (swap.vmdk file);
the third for temporary files, 32Gb in volume (file temp.vmdk) – inside the VM is mounted in the / tmp directory;
the fourth – to install application software (120Gb in size – the u01.vmdk file), is mounted in / u01;
The fifth disk is intended for Oracle DBMS data files (200Gb in size – the oradata.vmdk file) – mounted in / oradata.
1. Oracle software files are located on the u01.vmdk disk (mount point / u01 in the virtual machine)
2. Database files are located on the oradata.vmdk disk (mount point / oradata in the virtual machine)
3.All software (database instance, listener) will automatically start when the OS starts. When the OS is shutdown, all software also automatically stops.
4.All software is installed under the oracle user – his environment is configured for Database Home.
5.Enterprise Manager Express starts automatically.
To access Enterprise Manager Express, use the link: https: // localhost: 5500 / em
6. To access Application Express, use the link: http: // localhost: 8080 / apex
Login to the virtual machine:
Passwords for all users (root / oracle / sys / system / admin): "oracle"
ATTENTION: The release is for informational purposes only. In production, you can put at your own risk and risk as is, because you need to have a license and support from Oracle or Oracle partners.
Update 1:
Database patched to 18.4 (18c RU October 2018)
On Oracle Linux 7.5 installed fresh patches from the Oracle repository – the kernel is updated
Oracle APEX updated to the current version – 18.2
VBox Additions updated to the current version (5.2.20)
Production Year: 2018
Version: 18c
Developer: Oracle Corporation
Developer website: http://www.oracle.com/database
Configuration complies with Oracle VirtualBox 5.1
Architecture: amd64
Tabletka: Not Required
Interface Language: English