Impact Soundworks Shreddage 3 Stratus KONTAKT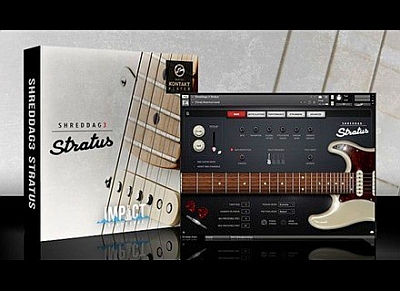 Impact Soundworks Shreddage 3 Stratus KONTAKT | 7.7 GB
The Next Generation of Virtual Guitar Instruments for KONTAKT / KONTAKT PLAYER! More realistic and versatile than ever with American classic sound, three pickups, tons of articulations and a new console mixer and modular FX rack!

Shreddage 3 Stratus – the first chapter in the new universe of guitar and bass instruments Impact Soundworks. When creating this sample library, we used nearly a decade of experience with our previous guitars and user feedback. We have created a new engine – Shreddage 3 (or S3, for short) – completely from scratch, including the latest Kontakt technology and tools available for version 5.7.
Our new strumming and voicing algorithms give you more realistic reproduction than ever, imitating a real guitar player. All of this is changed simply from the menu or by pressing a button switch. Added Strumming engine, excellent for both slow and fast parts of the rhythm. And with our new modular mixing console, you now have more than 30 effects from equalizers to pedals, compressors, amplifiers, cabinets, modulators, etc.
See all these incredible possibilities and decide which guitar is better than the classic American tone used in countless rock and roll, blues, metal, pop music, spirit and funk. Stratus includes three unique pickup positions with user mixing along with key articulations of the Shreddage series.
The console is our new mixer, modular effects rack and pedal panel for total control of your virtual guitar tone. Unlike our previous FX racks, which are limited to a small number of pre-installed modules, the Console gives you 30 effect modules to choose from!
These include several equalizers (digital and analog), compressors, spatial FX, modulation effects, amplifiers, distortion pedals, reverbs, and a selection of over 30 custom IR cabinets recorded for Shreddage 3 only! These cabinets cover all of the most important sounds you need, with dynamic and condenser microphones in several positions, plus a ribbon microphone for specific models.
Using the console, you can easily save and load FX chains or presets between projects or even various Shreddage 3 products. It also lets you mix guitar pickups.
Publisher: Impact Soundworks
Format: KONTAKT 5.7+
Quality: 24 bit 44,1 kHz stereo.