Windows 10 Rs4 v1803.17134.228 Aio 10In1 Multilingual Dual-Boot Preactivated (x86/x64)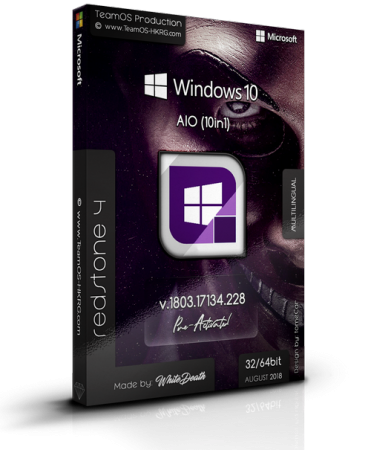 Windows 10 Rs4 v1803.17134.228 Aio 10In1 Multilingual Dual-Boot Preactivated (x86/x64) | 6.1 GB
Size x86-x64: 6.1 GB
Activation: Permantly Activation (Generate Digital License)
Language: English/Greek/German/Dutch/Russian/French/Spanish/Croatian/Arabic/Italian/Portuguese
Build Number: 17134.228
Updates: 15/8/2018
Features: Net 3.5 Enabled

Multilanguage x86-x64 Client Business Editions:
-Windows 10 Education | Education
-Windows 10 Enterprise | Enteprise
-Windows 10 Pro | Professional
-Windows 10 Pro Education | Professional Education
-Windows 10 Pro for Workstations | ProfessionalWorkstation | ProfessionalWorkstationN
Few things about Generetic License HWID And Updated ISO:
-This is Updated ISO based in Volume License or with other name: client business
-The generetic License permantly activation in volume license works diffrently from retails..
-With generetic is good idea log in with your e-mail in process so the activation tool when make license generetic that ticket=hardware will save in microsoft account.
-what mean saved with e-mail ..that mean everytime you make format you dont need anything too do only is skip when ask key in format..
-when you have all the above one more important thing is when you do format next time you will need add just the key from the application…
-if you dont get activated in installation process you can find it inside the iso sources\oem folder and do it manually.!
-In Case you dont get activated in first log in check your folder in /sources/$OEM$/$$/SETUP/Files
What's New?
August 14, 2018-kb4343909 (os Build 17134.228)
Improvements and fixes:
-Provides protections against a new speculative execution side-channel vulnerability
known as L1
Terminal Fault (L1TF) that affects Intel® Core® processors and Intel® Xeon®
processors (CVE-2018-3620 and CVE-2018-3646). Make sure previous OS
protections against Spectre Variant 2 and Meltdown vulnerabilities are enabled
using the registry settings outlined in the Windows Client and Windows Server
guidance KB articles. (These registry settings are enabled by default for Windows
Client OS editions, but disabled by default for Windows Server OS editions.)
-Addresses an issue that causes high CPU usage that results in performance degradation on some
systems with Family 15h and 16h AMD processors. This issue occurs after installing the June 2018
or July 2018 Windows updates from Microsoft and the AMD microcode updates that address Spectre Variant 2 (CVE-2017-5715 – Branch Target Injection).
-Addresses an issue that prevents apps from receiving mesh updates after resuming. This issue occurs for apps that use Spatial Mapping mesh data and participate in the Sleep or Resume cycle.
-Ensures that Internet Explorer and Microsoft Edge support the preload="none" tag.
-Addresses an issue that prevents some applications running on HoloLens, such as Remote Assistance, from authenticating after upgrading from Windows 10, version 1607, to Windows 10, version 1803.
-Addresses an issue that significantly reduced battery life after upgrading to Windows 10, version 1803.
-Addresses an issue that causes Device Guard to block some ieframe.dll class IDs after installing the May 2018 Cumulative Update.
-Addresses a vulnerability related to the Export-Modulemember() function when used with a wildcard
(*) and a dot-sourcing script. After installing this update, existing modules on devices that have Device
Guard enabled will intentionally fail. The exception error is "This module uses the dot-source operator
while exporting functions using wildcard characters, and this is disallowed
when the system is under application verification enforcement.