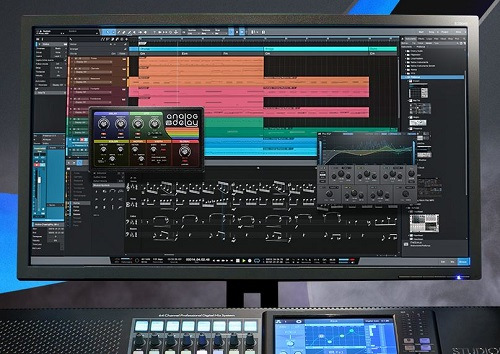 Studio One 5 Soundsets Complete 2021 | 36.07 GB
Record, produce, mix, master, and perform all from a single, intuitive application. Designed with ease of use at its core, Studio One® 5 is your creative partner from studio to stage. Studio One is driven by tools that enhance your creativity without getting in the way; we pioneered its drag-and-drop workflow that continues to be imitated elsewhere.

Laborious tasks that take five steps in other DAWs usually only take… One. A popular example: you can convert MIDI to audio and back with a simple drag-and-drop.

Includes:
•Acoustic Drum Kits & Loops
•Big Fish Audio Loops and Kits
•Electronic Audioloops
•Electronic Kits and Musicloops
•Impact XT Kits and Sounds
•MVP Loops and Kits
•Nine Volt Audio Guitars
•Presence XT Core Acoustic Guitars
•Presence XT Core Basses
•Presence XT Core Brass
•Presence XT Core Electric Guitars
•Presence XT Core Keyboards
•Presence XT Core Mallets
•Presence XT Core Percussion and Vocals
•Presence XT Core Strings
•Presence XT Core Winds
•Prime Selection Loops and Sounds
•Sample Magic Loops and Kits
•Studio One Electric Pianos and Organs
•Studio One Expansion
•Studio One FX
•Studio One Impulse Responses
•Studio One Instruments Vol. 1
•Studio One Instruments Vol. 2
•Studio One Musicloops
•Studio One Piano
•Synth Session
•Ueberschall Impact Drums
•Vengeance Sound
•Vintage Keys
•Voodoo One Synth

This package is installed for free, directly from the program in those who have a legit license.