PTC Creo View v8.1.0.0 (x64) Multilanguage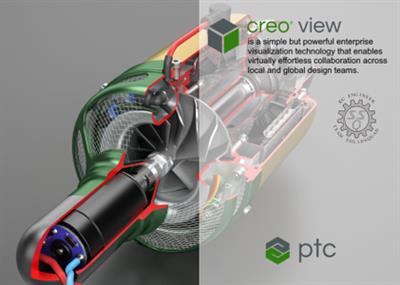 PTC Creo View v8.1.0.0 (x64) Multilanguage | 2.99 GB | Language: Multilanguage
[spoiler]
PTC is pleased to announce the availability new version of Creo View 8.1.0.0. This software enables you to view and interrogate ECAD designs and 3D MCAD products and models, assemblies, drawings, images, and documents. You can collaborate on products of different information types without the native applications.
What's new in Creo View 8.1.0.0
What's New in Creo View MCAD
Workflow Improvements for Creating Notes with Leader Lines
You can now select objects, like parts or part features, prior to creating a note and automatically have them referenced by the leader lines for the notes when created.
User Interface Location: Press and hold CTRL and select the parts, then click the Markup tab and select Note with Leader.
Creo View MCAD Adapters 8.1.0.0
Application Support Updates
Support for the following application versions is added:
– Creo Parametric 9.0 Beta
– Autodesk Inventor 2022
– NX 1980
Support for the following application versions is removed:
– Autodesk Inventor 2019
– NX 1872 Series
Converting Locators Defined in Skeleton Parts
The coordinate systems created in a skeleton part can be identified as a locator for use with dynamic positioning capabilities in Windchill. You can now use the coordinate systems from the skeleton parts which are immediate children of the module variant assemblies.
CEDM Adapter Can Skip Conversion of the Container Parts
The Creo View Adapter for Creo Elements/Direct Modeling can skip conversion of the container parts, and it lets the user control the conversion of the container parts, empty parts, face parts and wire parts.
Running SolidWorks Worker in Service Mode
The SolidWorks worker is now improved to simplify the configuration steps for running in service mode.
Office Publishing with Microsoft Office 64-Bit
Office publishing now supports publishing with Microsoft 64-bit.
PTC Creo Viewis a simple but powerful enterprise visualization technology that enables virtually effortless collaboration across local and global design teams. Access to multiple forms of engineering data including 3D CAD models, 2D drawings, electrical schematics, and printed circuit boards both interactively at your desktop or through augmented reality (AR) allows design authors, project managers and downstream suppliers to quickly and easily access and share information between themselves and other stakeholders.
Creo View makes the comparison and validation process easy, with single-view interrogation of mechanical and electrical design, project and part data.
With Creo View, you're on the way to faster and higher quality design reviews, improved user and extended design team collaboration, and higher quality products at a lower cost.
PTChas the most robust Internet of Things technology in the world. In 1986 we revolutionized digital 3D design, and in 1998 were first to market with Internet-based PLM. Now our leading IoT and AR platform and field-proven solutions bring together the physical and digital worlds to reinvent the way you create, operate, and service products. With PTC, global manufacturers and an ecosystem of partners and developers can capitalize on the promise of the IoT today and drive the future of innovation.
Product:PTC Creo View
Version:8.1.0.0 Build 25
Supported Architectures:x64
Website Home Page :www.ptc.com
Languages Supported:multilanguage
System Requirements:PC / Linux *
Size:3.0 Gb
Languages Supported: English, Deutsch, Français, Italiano,
Español, 日本語, 中文, 한국어, Português, Русский.

[/spoiler]
Homepage: https://www.ptc.com
DOWNLOAD LINKS:
https://k2s.cc/file/c1faa7e77490a
https://k2s.cc/file/e4c02093d16d9
https://k2s.cc/file/1932aa738140f
https://rapidgator.net/file/fa71528223c2e44bdd4374cbd0909f7a/PTC_Creo_View_v8.1.0.0_x64_Multilanguage.part1.rar
https://rapidgator.net/file/3ae0e0b2400eb8d34fe4ab05d50e5cec/PTC_Creo_View_v8.1.0.0_x64_Multilanguage.part2.rar
https://rapidgator.net/file/cfd52ec92db3616889cffff49e9df560/PTC_Creo_View_v8.1.0.0_x64_Multilanguage.part3.rar
https://nitro.download/view/5B015D40346D02B/PTC_Creo_View_v8.1.0.0_x64_Multilanguage.part1.rar
https://nitro.download/view/1933BDE2A802B67/PTC_Creo_View_v8.1.0.0_x64_Multilanguage.part2.rar
https://nitro.download/view/0C65AC60CC54C5A/PTC_Creo_View_v8.1.0.0_x64_Multilanguage.part3.rar
https://uploadgig.com/file/download/fc45439D013c9603/PTC_Creo_View_v8.1.0.0_x64_Multilanguage.part1.rar
https://uploadgig.com/file/download/e75903Fe22A374C5/PTC_Creo_View_v8.1.0.0_x64_Multilanguage.part2.rar
https://uploadgig.com/file/download/16ed7a81ea3f4d8F/PTC_Creo_View_v8.1.0.0_x64_Multilanguage.part3.rar