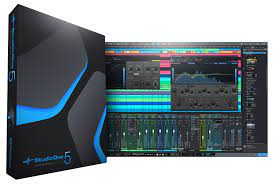 PreSonus Studio One 5 Professional v5.5.0 WIN-MAC | 485.8 MB
Studio One® 5 was designed with ease of use at its core. It seamlessly combines the time-tested and proven recording studio model with today's beat- and loop-oriented production process so you can bring musical ideas to sonic reality more quickly than ever before.

An efficient, single-screen interface houses an unlimited number of tracks, intuitive editing tools, and advanced virtual instruments. Spend your precious time creating music instead of wondering what to click next. Studio One doesn't dictate how you work or what you work on.

Arranging at the speed of click.

Forget laborious transposition, cutting, pasting, and moving when arranging. With Scratch Pads to test out arrangements, an Arranger track that makes moving sections of songs around as easy as moving parts, and the groundbreaking Harmonic Editing-the most flexible chord track implementation ever-no other program can approach the ease of arranging and songwriting that Studio One 4 delivers.

Detect chords automatically.

When you come up with an inspired chord progression, you needn't put your creativity on hold while you figure out what you played in order to add new parts. Built-in chord detection extracts chords from audio or instrument tracks-simply drag a part to the Chord Track to create a reference for Harmonic Editing.

Overcome creative blocks.

When you're stuck in a rut, let Studio One Professional be your creative partner. Use the ingenious Chord Selector to experiment easily with new chord patterns and ideas. Let Harmonic Editing spark new ideas. Change chords in real time from an external MIDI controller to try out chord progressions on the fly. Transfer chord data from an audio or instrument track to the Chord Track, or from the Chord Track to other tracks.

Printable notation that's truly noteworthy.

With just a few clicks and Notion 6.4 or higher, Harmonic Editing makes it easy to create great-looking, printable lead sheets.

MIDI-and beyond MIDI.

Studio One works with all the standard MIDI gear you know and love, from controllers to tone modules. But once MIDI data arrives into Studio One, it's converted to a high-resolution, 32-bit internal format. That means no zipper noise on instruments, smoother controller changes and pitch bends, more detailed automation, and other benefits when working in the Studio One environment. And if you need to drive external MIDI gear, you're covered there too-Studio One translates its high-resolution format back into standard MIDI data if it needs to return to the outside world.

World-class instruments.

With its rich roster of native plug-ins, Studio One has earned its reputation as a complete production package-and now our latest generation of virtual instruments, based on input from the Studio One community (thank you), deliver even more. Impact has been remade into Impact XT, a comprehensive beat and rhythm production environment. Sample One XT samples, slices, and dices to create great beats and realistic instrument sounds. These new instruments don't feel like separate plug-ins but like integrated-and integral-parts of music creation.

Pick a format. any format.

Prepare your tracks for streaming with data compressed, standard, or lossless files. AAF (Advanced Authoring Format) provides song/session exchange for those who haven't switched to Studio One (yet). Open all video and audio formats your operating system supports. Enjoy better video performance with 64-bit video engines for macOS and Windows. Create disk images. Burn Red Book CDs. Import DDP files for editing, such as fixing ID tags or ISRC code errors, then export the corrected DDP file. Whether your music's final destination is online streaming or physical media, Studio One Professional has you covered.

Breaking News: ARA 2.0 is coming.

Deep support for the new Audio Random Access 2.0 spec opens Studio One 4's groundbreaking Harmonic Editing to other plug-in and virtual instrument developers (expect a free Melodyne update with Chord Track support later this year), and allows simultaneous editing of multiple tracks.