NI SystemLink 2021 R3.1 Multilanguage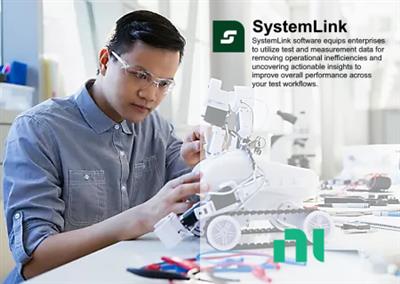 NI SystemLink 2021 R3.1 Multilanguage | 2.2 GB | Language: Multilanguage
[spoiler]
National Instruments, the provider of a software-defined platform that helps accelerate the development and performance of automated test and automated measurement systems, announced the new version of SystemLink software.
NI SystemLink 2021 R3.1 Bug Fixes – Date: Nov 24, 2021
1706828 DataFinder stopped because SL TDM Database Service crashed
Workaround:There is currently no known workaround for this issue.
1703771 Analysis Automation quick action "Go to task definition" does not work
Workaround: Click Refresh in your browser and then use "Tasks" tab to navigate to task definition.
SystemLink software is an intelligent systems and data management software framework for validation, production, and monitoring test environments. Designed for engineering use cases, SystemLink software combines test-and-measurement-focused applications and data services with a software infrastructure that utilizes market-leading open-source technologies. This combination of IP and open technologies means that SystemLink software can provide a unique blend of domain value, extensibility, and flexibility.
SystemLink software is comprised of four modules-Software Configuration, Asset, Test, and TDM DataFinder. These modules provide application-specific capabilities that use the SystemLink Server for data communication, transmission, and movement, as well as software package, alarm and notification, and NI and non-NI instrument dashboard management. SystemLink provides TestStand and DIAdem native hooks for test automation and measurement data analysis, respectively.
With its open and extensible architecture, you can use SystemLink software with NI and non-NI automation software development tools such as LabVIEW, MathWorks, Microsoft .NET framework, and Python.
SystemLink software eliminates the manual tasks associated with keeping test systems current and healthy. From automating updates to monitoring system health, SystemLink software delivers key information that improves situational awareness and test readiness across the product life cycle, and also rest assured that your software configurations are accurate, and that test equipment complies with calibration and quality standards.
By employing an automation and connectivity framework, SystemLink software bridges the divide between your Operational Technology (OT) and Information Technology (IT) systems by aggregating test and measurement data from all test systems into a centralized data repository. Easily transfer data from testers to data stores via tags or files, accessible securely through the SystemLink web application.
https://youtube.com/watch?v=OmBeC6w7__I
At NI, we bring together the people, ideas and technology so forward thinkers and creative problem solvers can take on humanity's biggest challenges. From data and automation to research and validation, we provide the tailored, software-connected systems engineers and enterprises need to Engineer Ambitiously every day.
Product: NI SystemLink
Version: 2021 R3.1
Supported Architectures: x86 or x64
Website Home Page : http://www.ni.com
Languages Supported: multilanguage
System Requirements: PC *
Size: 2.3 Gb
Languages Supported: English, Deutsch, 日本語, Simplified 中文
[/spoiler]
Homepage: http://www.ni.com
DOWNLOAD LINKS:
https://k2s.cc/file/38f9e08fc88dc
https://k2s.cc/file/ecf2d1d32302d
https://k2s.cc/file/7f67296381256
https://rapidgator.net/file/aaed66ece3427bb7cd1192e6a60a9969/NI_SystemLink_2021_R3.1_Multilanguage.part1.rar
https://rapidgator.net/file/23b192d969160fbd2edaff83efeab6bc/NI_SystemLink_2021_R3.1_Multilanguage.part2.rar
https://rapidgator.net/file/b9feaa1af610135446e41f11d1e02afb/NI_SystemLink_2021_R3.1_Multilanguage.part3.rar
https://nitro.download/view/31B47C4AE2D5572/NI_SystemLink_2021_R3.1_Multilanguage.part1.rar
https://nitro.download/view/4CBB7E24A0E7D10/NI_SystemLink_2021_R3.1_Multilanguage.part2.rar
https://nitro.download/view/3D39ABFA9F2BB25/NI_SystemLink_2021_R3.1_Multilanguage.part3.rar
https://uploadgig.com/file/download/e7edc8c80cdEe72F/NI_SystemLink_2021_R3.1_Multilanguage.part1.rar
https://uploadgig.com/file/download/681825b2E36eeA48/NI_SystemLink_2021_R3.1_Multilanguage.part2.rar
https://uploadgig.com/file/download/35cCc9b7092a5f59/NI_SystemLink_2021_R3.1_Multilanguage.part3.rar