Autodesk InfraWorks 2022.1.1 (x64) Multilanguage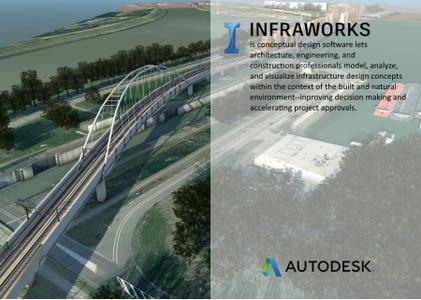 Autodesk InfraWorks 2022.1.1 (x64) Multilanguage | 3.85 GB | Language: Multilanguage
[spoiler]
The software developer Autodesk is pleased to announce the availability of InfraWorks 2022.1.1. The latest release of InfraWorks bring performance improvements and functionality updates to civil design workflows.
In the latest release of InfraWorks, added performance enhancements to the Structures workflow, support for Autodesk Robot to Bridge Analysis, and refinements to spreadsheet workflows, among other upgrades.Read on for a closer look at the changes.
Languages Supported: Deutsch, English (GB), English (US), Español, Français
Italiano,日本語, Português, Русский, 中文.
New in InfraWorks 2022.1
In InfraWorks (2022.1) made several improvements to bridge design workflows, including:
Refinements to generic object and cross frame sets, giving you fine-grain control over the parameters of specific instances in sets.
Spreadsheet and slices workflow refinements let you easily open a Microsoft Excel workbook to access all your bridge parameters, enabling efficient, data-centric changes to a bridge model. You can edit the offset location of slices along girders, decks, and tunnels, and add or delete slices directly in the spreadsheet.
Also extended the integrated Refined Bridge Analysis feature in InfraWorks to let you choose Autodesk Robotas the analysis software instead of the default choice of Autodesk Structural Bridge Design. This lets you handle larger models and/or carry out lateral analysis of bridges.
Finally, along with performance improvements to the underlying parametric modeling engine pipeline and support for parameter name override for custom content, we've made improvements to the InfraWorks platform for in-canvas manipulation, improving performance. You should now experience fewer crashes when drawing and editing.
Autodesk InfraWorks 2022.1 Hotfix 1 (October 2021 release)
This hotfix requires InfraWorks 2022.1 to be installed in order to apply the update. Be sure your installation has all of its previous updates before installing this hotfix.
Security
This hotfix contains security updates for Autodesk InfraWorks.
Coordinate Systems
Fixed an issue in which a coordinate system boundary check would return errors at import or export. During the coordinate system boundary check, its extent is buffered to allow cross coordinate system boundary models to be exported.
Model Builder
Fixed an issue in which a search option was not visible in the drop down when an address was partially entered in the search field.
Autodesk InfraWorksis the geospatial and engineering BIM platform that enables parametric model-based planning and design of civil infrastructure in the context of the real-world. With InfraWorks users can more easily evaluate and convey design intent within the context of a project's surroundings; data can be aggregated from various sources and design decisions made earlier in the project lifecycle;~ then, the design model can be moved downstream to AutoCAD Civil 3D for detailed design and construction documentation with minimal loss of critical information – improving decision making, project stakeholder buy-in, and saving both time and money.
The latest release of InfraWorks now uses the power and precision of Civil 3D for corridor models. These upgrades include:
– Importing all calculated design elements or select elements of the Civil 3D corridor intoInfraWorks directly
– Define the mapping of materials to apply to the corridor shapes
– Placing corridors into their contextual environment
– Seamless updates to the road in InfraWorks when the Civil 3D corridor changes
– And more downstream benefit
What's New in Civil 3D & InfraWorks 2022?
Autodeskhelps people imagine, design and create a better world. Everyone-from design professionals, engineers and architects to digital artists, students and hobbyists-uses Autodesk software to unlock their creativity and solve important challenges.
Product:Autodesk InfraWorks
Version:2022.0.1 *
Supported Architectures:x64
Website Home Page :www.autodesk.com
Languages Supported:multilanguage
System Requirements:PC **
Size:4.0 Gb
IW360P_2022_1_R2_WIN_64BIT_dlm_001_002.sfx.exe
IW360P_2022_1_R2_WIN_64BIT_dlm_002_002.sfx.exe
InfraWorks_2022_1_1.exe (hotfix)
Infrastructure_Parts_Editor_2022.exe
[/spoiler]
Homepage: https://www.autodesk.com
DOWNLOAD LINKS:
https://k2s.cc/file/2a65347a38b82
https://k2s.cc/file/6866eb5bfba80
https://k2s.cc/file/6871db0d0bc6a
https://k2s.cc/file/d3841809c7620
https://rapidgator.net/file/c8e6f1d9acb76c908a14245a4cffb468/Autodesk_InfraWorks_2022.1.1_x64_Multilanguage.part1.rar
https://rapidgator.net/file/3948a61ea485e1bcd0963272a5666eae/Autodesk_InfraWorks_2022.1.1_x64_Multilanguage.part2.rar
https://rapidgator.net/file/ad7b01691da68ec3565c51a6d300a638/Autodesk_InfraWorks_2022.1.1_x64_Multilanguage.part3.rar
https://rapidgator.net/file/e7c09d3ac2c0e54563b417ca71b93ed2/Autodesk_InfraWorks_2022.1.1_x64_Multilanguage.part4.rar
https://nitro.download/view/B6C5A06CD96C314/Autodesk_InfraWorks_2022.1.1_x64_Multilanguage.part1.rar
https://nitro.download/view/41378108019B2B7/Autodesk_InfraWorks_2022.1.1_x64_Multilanguage.part2.rar
https://nitro.download/view/D7383D898AE5E56/Autodesk_InfraWorks_2022.1.1_x64_Multilanguage.part3.rar
https://nitro.download/view/CE1E582E372FD3E/Autodesk_InfraWorks_2022.1.1_x64_Multilanguage.part4.rar
https://uploadgig.com/file/download/590a373Ca972a0b1/Autodesk_InfraWorks_2022.1.1_x64_Multilanguage.part1.rar
https://uploadgig.com/file/download/de9f54e38b24d965/Autodesk_InfraWorks_2022.1.1_x64_Multilanguage.part2.rar
https://uploadgig.com/file/download/ca6A02ded5921dCc/Autodesk_InfraWorks_2022.1.1_x64_Multilanguage.part3.rar
https://uploadgig.com/file/download/7dc052b7c5CAcf8a/Autodesk_InfraWorks_2022.1.1_x64_Multilanguage.part4.rar