3DQuickPress v6.3.3 (x64)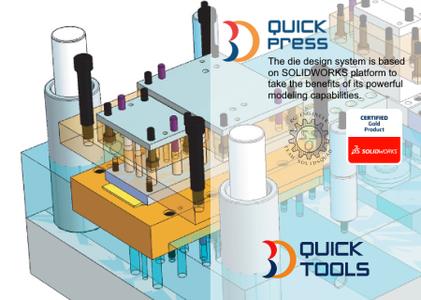 3DQuickPress v6.3.3 (x64) | 1.9 GB | Language: English
[spoiler]
3D QuickTools Ltd., a the leader in 3D die design automation and Strategic Technology Solutions, is pleased to announce the availability of 3DQuickPress 6.3.3, is a SOLIDWORKS add-on for progressive die design.
3DQuickPress is 3D solution integrated with SOLIDWORKSfor the progressive die industry. The 2D approach has dominated the design of progressive dies over the last century. Benefits in using 3D cannot drive the industry to change their design tool due to the drawback of performance and long learning curve in 3D design.
3DQuickPress aims for ultimate performance, ease of use, and a short learning curve to enable tooling engineers to use the power of 3D design. 3DQuickPress provides solutions ranging from blanking development to strip layout design and die set structure design.
The powerful Strip Layout Manager provides intuitive tools to iterate your design simply by dragging and dropping with instant graphic feedback. Once strip layout design is finished, cutting punches, bending punches, and inserts are created automatically as well as the die plate opening with clearance. 3DQuickPress is the key to getting tremendous benefits from 3D modeling.
Key functions of 3DQuickPress include: unfolding, strip layout design, automatic punch generation, automatic like parts recognition for accurate Bill of materials (BOM), standard component library, die set library, automatic die plate holes generation, and powerful sketch tools.
Progressive Die Design in SOLIDWORKS – 3DQuickPress
3D QuickTools Ltd.was founded by Dr. Pierre Lui and Micky Ng in 2002. Later a group of experienced tooling specialists and CAD/CAM programmers joined and transformed the company to the largest Hong Kong based CAD developer. In 2005, 3D QuickTools lined up with ESI Group, the French global leader in virtual prototyping.
With the team's dedication and steady product enhancements, 3D QuickTools is perceived as the premium supplier of 3D die and mold design solutions used by many successful industrial customers. The company got the Hong Kong Information, Collaboration and Technology Awards in 2010 which was the highest recognition for efficient tech business model achievement.
When running 3DQuickPress in the SolidWorks platforms, the minimum requirements are superseded by the minimum requirements listedfor those platforms.
3DQuickPress version 6.3.3 – What's new
Enhancements:
– SOLIDWORKS 2022 is supported.
– Deep Draw Calculator added to 3DQP Unfolding CommandManager tab.
– Default settings for Create Notch Batch Mode and Defer Notching Update in strip layout.
– Stretch web connector angles in Deep Draw Calculator range from 0 to 180 degrees inclusive.
– 3DQT DieSet Design CommandManager tab.
– 3DQuickPress Drawing Toolbar CommandManager tab.
– Smart Hole Table for rectangular slots or holes with chamfers / fillets.
Fixes:
– Failure to extract identical features in User Assisted Recognition since 6.3.2.
– Failure to fully unfold automatically or problem in Rebuild Unfolding Model since 6.3.0.
– Problem in Fill Up My Blank Gaps.
– Stability problem in strip layout Feature Property Report.
– Stability problem due to hem features when inserting stations in strip layout.
– Lost Component Reference in cutting punch assembly components.
– Smart Hole Table by system default HG Macro (HG.swp) outputs incorrect dual dimensions for drawings in inch unit.
– Paint Mfg. Info in black color due to RealView Graphics.
– Smart Hole Table with Combine Top Bottom Connected Holes option for counterbore holes (bottom).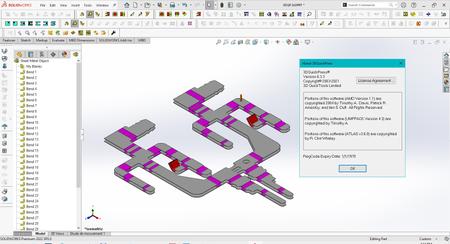 [/spoiler]
Homepage: https://www.3dquicktools.com
DOWNLOAD LINKS:
https://k2s.cc/file/f270de098c689
https://k2s.cc/file/75604e9633a2c
https://rapidgator.net/file/8362808727c0564c8c978f4b125b094c/3DQuickPress_v6.3.3_x64.part1.rar
https://rapidgator.net/file/3a22d9b32ee6c8304673a2fa50f1eaeb/3DQuickPress_v6.3.3_x64.part2.rar
https://nitro.download/view/2BDF0FA4B9E8F89/3DQuickPress_v6.3.3_x64.part1.rar
https://nitro.download/view/7A2B2472D072B49/3DQuickPress_v6.3.3_x64.part2.rar
https://uploadgig.com/file/download/128dc7477d016e79/3DQuickPress_v6.3.3_x64.part1.rar
https://uploadgig.com/file/download/72fabcf761ee55F4/3DQuickPress_v6.3.3_x64.part2.rar