Vero EdgeCAM v2017 R2 SU14 (x64)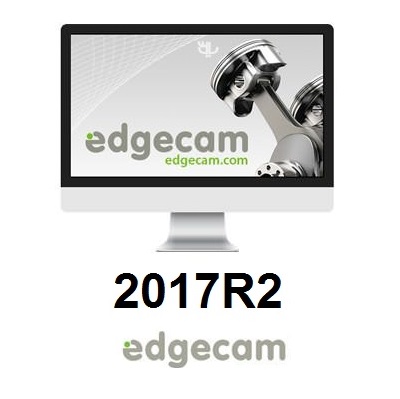 Vero EdgeCAM v2017 R2 SU14 (x64) | 3.51 GB
Edgecam is a market leading computer aided manufacturing (CAM) system for NC part programming. With unparalleled ease of use and sophisticated toolpath generation, it's the only CAM system you'll need for milling, turning and mill-turn machining.

Edgecam utilises your in house knowledge and experience to drive the CAM process with automation tools to suit different applications – allowing you to maintain your competitive edge.
Edgecam offers the following applications:
EDGECAM Mill Turn
The uses of tail stocks, steadies, sub spindles, twin turrets along with C Axis, CY Axis and B Axis are regular features on today's Multi-Task machine tools. In this collision rich environment, Edgecam's turning and milling combinations provide a safe machining environment.
EDGECAM Production Milling
EDGECAM provides functionality to generate efficient toolpaths from wireframe and solid geometry on a variety of machine tool configurations, ranging from 2.5 axis to complex 3 to 5 axis milling machines.
EDGECAM Turning
EDGECAM Turning provides functionality for 2-Axis lathes, multi-turret configurations, sub-spindle turning centres and mill/turn machines. On a mill/turn machine, C-, Y- and B-Axis milling and drilling take place within the same environment, providing a fully integrated and associative programming solution.
EDGECAM 4 & 5 Axis
EDGECAM seamlessly integrates 4 and 5 axis simultaneous machining within its milling and mill/turn environment to allow a range of multiaxis cutting strategies to be applied to the most complex tooling or components.
EDGECAM 3D Milling
EDGECAM features an extensive suite of advanced 3D cycles that is ideally suited for the rapid generation of optimum toolpaths for all surface and solids machining needs.
EDGECAM Part Modeler
EDGECAM Part Modeler is a cost effective, 3D modeling tool specifically designed for quick and simple construction and/ or modification of solid models prior to manufacture.
EDGECAM Strategy Manager
EDGECAM Strategy Manager encompasses the best from the principles of rules, knowledge and feature based machining and utilizes these to produce a fast, reliable and highly automated solution for solids machining.
EDGECAM Waveform
Waveform roughing is a high speed machining technique that maintains a constant tool cutting load by ensuring the tool engagement into the material is consistent. The tool path moves in a smooth path to avoid sharp changes in direction which maintains the machine tool's velocity.
EDGECAM Solid Machinist
EDGECAM Solid Machinist is a powerful and seamlessly integrated CAM system for generating milling and turning machining strategies and NC code from solid models.
EDGECAM Wire EDM
EDGECAM's Wire EDM is an efficient addition to its world class milling, turning, and turn/mill CAM software solution, providing greater productivity and increased flexibility through a single source solution provider.
EDGECAM Consultancy
The Edgecam Support Team is committed to providing the best possible support to our customers. It is our goal to maximise your Edgecam investment by dealing with your support requests in a timely and efficient manner and through ongoing improvements in our level of service.
1. Start the program by running the StartHere.hta file.
2. Copy the Crack folder to your system's C drive.
3. Run the application and go to the Application section into the Manager – & – License Manager.
4. Click on" Standalone" and then" Install License" .
Step A to C for all existing files. In the Crack folder. (The files in Crack are numbered 1-4 at the end of their names, and each time you repeat the following steps, simply change the number 1 to 2,3 and 4, respectively)
A – Use the license file and select the file URL
0000-0000-0000-0000-0000-0000-1.one
Select Crack using the Browser.
B – in the Servercode field Enter the following statement.
0000-0000-0000-0000-0000-0001
C – Click" Next" and" Finish."
6. The software can be used without any restrictions.
Install updates:
– Download the offline software update file separately and apply the .exe file to the update. After updating the software, repeat the cooking process if necessary.
Version: R2 Build SU14
Developer: Vero Software
Developer site: http://www.edgecam.com
Digit capacity: 64bit
Interface language: Multilingual (Russian is present)
Tabletka: present
System requirements: Supported Operating Systems:
We recommend you install the latest service packs.
System Type: 64-bit Operating System, x64-based processor
– Microsoft Windows 7 Professional (SP1 required)
– Microsoft Windows 7 Enterprise (SP1 required)
– Microsoft Windows 7 Ultimate (SP1 required)
– Microsoft Windows 8.1 Professional
– Microsoft Windows 8.1 Enterprise
– Microsoft Windows 10 Professional
– Microsoft Windows 10 Enterprise
Minimum Specifications:
– 64-bit Intel Pentium 4 processor (2 GHz or faster), Intel Xeon, Intel Core, AMD Athlon 64, AMD Opteron, AMD Phenom or later, single, dual or quad core versions
– 4 GB of RAM
We recommend a 64-bit operating system and 2GB RAM for each processor as a minimum.
– 10 GB free disk space for the Edgecam installation
Graphics card:
– Graphics cards – Driver requires OpenGL 3.3:
& – NVIDIA Quadro range
& – AMD Fire Pro range
& – AMD Fire GL range
& – Intel HD range – Iris 540, 5500, 5000, 4400, 420