ThePhonoLoop Cassette Piano.02 v2.0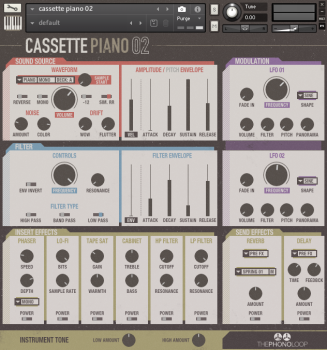 ThePhonoLoop Cassette Piano.02 v2.0 | 2.59 GB
The GUI of the Kontakt version has been redesigned – it's still very simple and clear, but it offers much more editing possibilities, including extended modulation section:
– 2 independent LFOs with 5 shapes and 4 destinations each
– AMPLITUDE envelope with velocity modulation
– FILTER envelope with invert switch
– PITCH envelope with invert switch and attack curve knob

Another improvement is the use of impulse reverb with custom impulses (4 spring impulses, 4 hall impulses & 3 corridor impulses), along with a choice of whether you want it to be placed pre or post insert effects – same thing goes for the delay.
In addition, there are also features you may already know from previous instruments in this series, such as the sample start knob (controlled with the GUI or Mod Wheel) which allows you to control initial transients while designing your sound. Moreover, because of the fact that this kind of instruments sounds great when transposed down (it really adds to the overall 'lofiness' of the sound) there's an octave down switch in the GUI now.
And as the last thing – there's now also a simple 2 band equaliser (Instrument Tone) located at the bottom of the GUI.
Simulated Round Robin
Makes faster note passages sound more realistic and adds to the overall nonlinearity of the instrument – check out the introduction video to hear it in action (Kontakt and SFZ versions only).
Variety of sounds
Aside from the sound of a cassette record with this instrument you can easily create some weird sounds and there are already quite a few presets included to get you started (Kontakt & Ableton Live versions only).
Main Features:
+ Available in multiple popular formats: Kontakt 5, Ableton Live 9, Logic, SFZ & Multiformat
+ 5 GB of samples (1325 samples in total)
+ Recorded on 4 different decks
+ Mono and Stereo versions
+ 5 noise samples (each around 2 minutes long)
+ 3 velocity layers
+ Organic sound with lots of little imperfections
+ 46 presets
+ One-page interface for easy and fast sound design
+ Convolution Reverb with custom impulses (spring, hall, corridor)
Full version of Kontakt 5.6.6 (or higher) required – not compatible with Kontakt Player!
https://thephonoloop.com/collections/multisampled-instruments/products/cassette-piano-02