Surge Sounds Future House (MiDi Wav Serum Massive)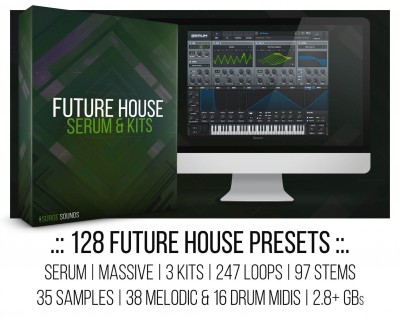 Surge Sounds Future House (MiDi Wav Serum Massive) | 2.65 GB
INSPIRED BY BROOKS, MIKE WILLIAMS AND DROPGUN
Future House for Serum is an innovative collection of Future House & Bounce with presets, construction kits, loops, stems and MIDI!
It has everything you need to create fresh and modern products.

We at Surge Sounds always erase the boundaries to give you an advanced and extraordinary sound.
The skillfully crafted sounds contained in this package, created with the utmost care, will give you access to the most innovative features of Future House & Bounce.
Influenced by current well-known artists, including Brooks, Mike Williams and Dropgun.
We focused on providing you with sounds that these producers themselves will be inspired by.
Each preset has 4 macros that give you creative control and innovation to customize and match them with your artistic sound.
Imagine, when you have access to the same high-quality sounds as the entire top of Future House & Bounce producers, you will play at festivals as soon as possible!
Publisher: Surge Sounds
Website: surgesounds.com
Format: MIDI, WAV, SERUM, MASSIVE
Quality: 24 bit 44.1 kHz stereo
https://surgesounds.com/futurehouseforserum/