StudioWeapon UNDERSCORE v1.5 KONTAKT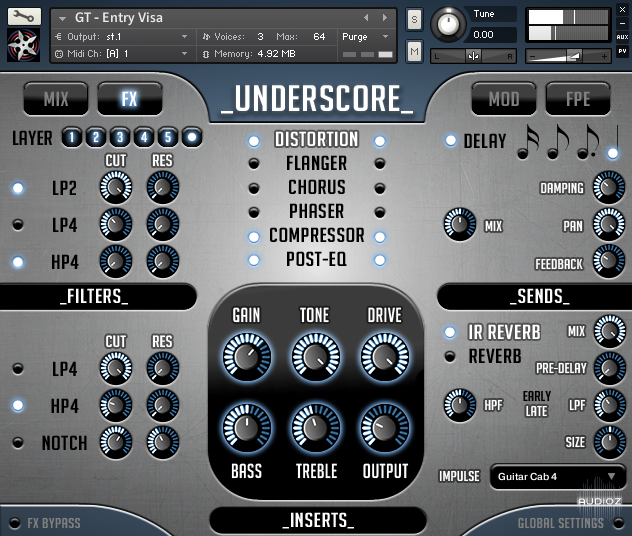 StudioWeapon UNDERSCORE v1.5 KONTAKT | 931 MB
UNDERSCORE – Originally developed for composers who write music for film / television / video games, it combines a powerful sequencer that works in real time and various sound manipulation functions and allows you to create complex instrumental parts in seconds and with unprecedented flexibility.

Engine
FluidPhrase: allows UNDERSCORE to adapt to changes in host tempo without artifacts, smoothly reproduce harmonic sequenced patterns with any key and, when used with powerful trigger modes, can make the process of writing rhythmic music fast and interesting.
Simply pressing and holding one or two notes can lead to unexpected rhythmic ideas that will inspire you in ways that you have not experienced before.
Five-layer architecture: Developed using a 5-layer sampling architecture, UNDERSCORE was created to ensure efficient memory utilization. In fact, installing UNDERSCORE takes up less than 1 GB of free hard disk space. The innovation lies in the fact that the sample includes composite sound elements (attacks of transients, sustain) of a wide range of hybrid acoustic and synthetic sounds.
This means that instruments responsive to dynamics and RR can be programmed without the "brute force" method of traditional sampling. This leads to a further transformation of synthetic sound, which becomes more "human" and flexible.
Phrase trigger: UNDERSCORE does not contain audio loops – all phrases are created by running real-time multisampling instruments with the fully editable FluidPhrase engine, as well as a combination of polyphonic step sequencer (with multiple trigger modes) and the Phrase Envelopes function (modulation sources that can be used to change the sound parameters for the duration of a phrase or sequence).
https://www.kontakthub.com/product/_underscore_/