Steinberg Retrologue 2.2.0 VSTi VSTi3 AAX x64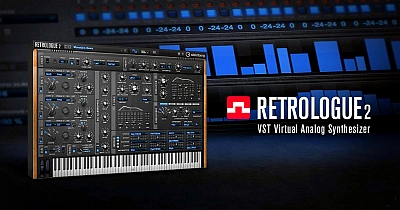 Steinberg Retrologue 2.2.0 VSTi VSTi3 AAX x64 | 95 MB
A flexible, intuitive Retrologue 2 simulates the warmth and richness of classic analog synthesizers. Three virtual analog oscillators and a first-class filter set create a multitude of rich sounds; its adaptable arpeggiator, powerful modulation system and FX rack make Retrologue 2 the first choice for producers all over the world.

More powerful: Now, by offering three oscillators, Retrologue 2 also provides their additional types and customizable OSC trigger modes for even more creativity. Give your vintage synths extra nuance and expressiveness with 12 extra filter types and select distortion or sharpness from the added distortion modes.
More modulation: Supplemented by a new 32-step arpeggiator, two additional polyphonic LFOs, envelopes and six additional slots in a modular matrix, version 2 turns the Retrologue into a truly powerful modulator. Its drag-drop interface ensures that it takes only a few seconds to assign sources and modulation targets.
More effects: Retrologue 2 introduces the FX section, filled with five new effects, adding an energetic phaser, a lush new algorithmic reverb, a precision four-band equalizer, an innovative three-way resonator and charming Vintage Ensemble textures. All these new FX modules can be freely directed to the special FX tab for unlimited creative freedom.
More presets: Get inspired by more than 400 new Retrologue 2 presets that have been carefully designed by our team of sound design experts. Using the many added sound capabilities in Retrologue 2, these sounds are complemented by arpeggiating patterns, percussion and percussion sounds, powerful leads, luxurious pads and rich bass.
Year / Release Date: 11.2018
Version: 2.2.0
Developer: Steinberg
Format: VSTi, VSTi3, AAX
Digit capacity: 64bit
Tabletka: cured
System requirements: Windows 7 / 8.x / 10, Intel or AMD dual core CPU, 4 GB RAM.