Schematic Automation 40 v20.0.3.54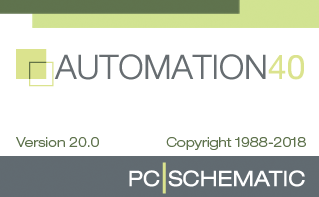 Schematic Automation 40 v20.0.3.54 | 477 MB
PCSCHEMATIC Automation is an advanced electrical CAD software that sets you free to focus on your professional challenges, while the software handles the practical details. Automation has an intuitive workflow, which allows you to get started right away – well supported by the free tutorials on the PCSCHEMATIC YouTube channel.The software handles reference designations intelligently according to IEC/ISO 81346, and includes symbols for automation, PLCs, topology / bus connections, single line diagrams, pneumatics/hydraulics, house installation and more..

This PCSCHEMATIC Component Database contains 45.485 components from 51 manufacturers. Each record contains electrical and mechanical symbols – as well as article data for the component.
The manufacturers in the database are: ABB, AEG, Allen-Bradley, Balluff, Beckhoff Automation GmbH, Benedict GmbH, Benedikt & Jäger, Bihl+Wiedemann GmbH, Brodersen, Carlo Gavazzi, Contrinex, Crevis, Danfoss, Dehn, Duelco, Eaton, Eltako, F&G, G&L Beijer Electronics AB, GE Redline, Hager, I/S Danlaser, IC Electronic, Idec, Idec Izumi, Legrand, Lovato, Mitsubishi, MJK Automation, NKT Cables, Omron, Phoenix Contact, Pilz Scandinavia, PR electronics, Rose Systemtechnik, Schneider Electric, Schrack, Schupa, Servodan, Sick AG, Siemens, Solar, Spelsberg, Sunx, Tesch GmbH, Theben, Traco Electronic AG, Wago, Weber, Weidmüller and Wieland Electric GmbH.
System Requirements:
-Operating System: Windows XP/Vista/7/8/8.1/10
-Memory (RAM): 1 GB of RAM required.
-Hard Disk Space: 400 MB of free space required.
-Processor: Intel Pentium 4 or later.