Rob Papen BLUE II 1.0.3b VSTi AAX NKS x86/x64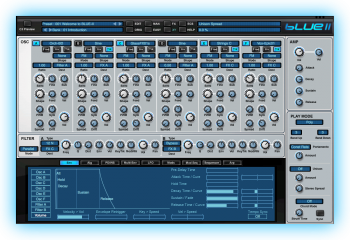 Rob Papen BLUE II 1.0.3b VSTi AAX NKS x86/x64 | 1.13 GB
First released in 2005, BLUE already reflected Rob Papen's cutting-edge, creative and, most importantly, musical approach to developing virtual instruments, first providing FM and subtractive synthesis, and then properly adding phase distortion and wave shaping to a very creative mix to have one seriously creative combination. Rob Papen himself called it "fusion synthesis", as he so effectively covered many musical styles.

Year / Release Date: 12.2018
Version: 1.0.3b
Developer: Rob Papen
Developer site: Rob Papen
Format: VSTi, VSTi3, AAX
Digit capacity: 32bit, 64bit
Tabletka: cured
System requirements: PC: 32 & 64 bits VST and AAX for Windows Vista / Windows 7 / Windows 8 / Windows 10
(Note: PC AAX for PT 12 or higher). Compatible with the NI NKS system.