Red Giant Plugins Bundle 12.2018 (Mac OS X)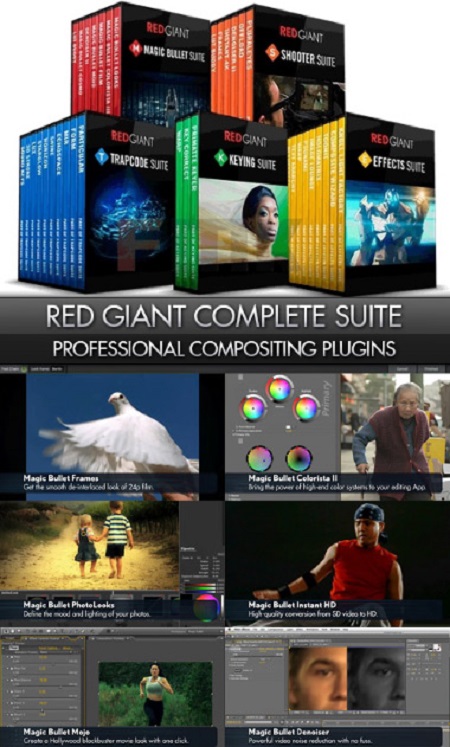 Red Giant Plugins Bundle 12.2018 (Mac OS X) | 1.3 Gb
Red Giant Software offers the complex digital video plugins Bundle 2018 for software compositing and video montage such as After Effects, Apple Final Cut Pro, Nuke and Sony Vegas.

Features:
– Essential tools for color correction, finishing & looks
– Footage prep & delivery tools for the shoot and the timeline
– The industry standard for broadcast & 3D design
– The complete solution from key to composite
– Creative effects & flares with a truly professional appeal
Red Giant Keying Suite 11 is a complete set of professional tools for seamless keying that amps up the realism of your composite. Get great results for basic keying situations as well as multi-step composites and difficult shots like low light or choppy footage.
Red Giant Magic Bullet Suite 13.0.11 – color correction, finishing and film looks for filmmakers. Magic Bullet Suite is a set of seven tools that bring intuitive, real time color correction, and beyond, right to your editorial timeline.
Red Giant Effects Suite 11 contains nine essential products to give you the creative freedom to produce Hollywood caliber special effects. Having been used for feature films such as Avatar and Super 8, Effects Suite gives you the power of Hollywood right at your own desk. Boasting over 70 individual tools, you'll be able to author the next blockbuster with ease allowing your creative expression to shine. In this new version added Knoll Light Factory 3.0 and 3D Lens Flares for Motion Graphics and VFX.
Red Giant Shooter Suite 13.1.8 is a set of tools that gives you the freedom to shoot the way you want, with the confidence that your footage will make it from your camera to the editing timeline safe, sound and in sync.
Red Giant Trapcode Suite 15.0.0 include:
– Trapcode Particular
– Trapcode Form
– Trapcode Tao
– Trapcode 3D Stroke
– Trapcode Echospace
– Trapcode Horizon
– Trapcode Lux
– Trapcode Mir
– Trapcode Starglow
– Trapcdoe Shine
System requirements:
– Mac OS X 10.8 and above
– After Effects CC 2014 and above
– Premiere Pro CC 2014 and above
– Sony Vegas 12 and above
– Davinci Resolve 11 and above