Quest Software Security Explorer v.9.8.0.375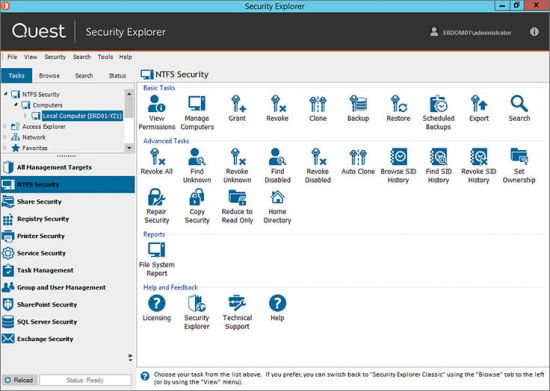 Quest Software Security Explorer v.9.8.0.375 | 176 MB
Use a single console to manage access controls, permissions and security across your various Microsoft platforms, including Active Directory (AD), Windows Server, Exchange Server, SharePoint Server and SQL Server. Security Explorer® provides an array of security enhancements, including the ability to identify who has rights to resources across the entire organization. You can also grant, revoke, clone, modify and overwrite permissions quickly and from a central location.

Search Microsoft servers to see who has rights to resources enterprise-wide
Manage permissions across Microsoft servers from a central, unified console
Back up, baseline and restore security and permissions, all while retaining data integrity
Report on who has access to what to streamline security audits
Features:
Enterprise-wide rights review
Instantly see who has access to what in real time across Microsoft servers. Search for explicit or inherited permissions in AD, on file servers, Exchange server, SQL Server and SharePoint. Even search for permissions to services, tasks, users and groups. Security Explorer's single console eliminates the need to manually search each server for permissions.
Centralized permissions management
Make targeted or bulk changes to servers with the ability to grant, revoke or modify permissions. View and manage group membership settings directly in the access control list for a resource. Overcome access-denied errors by forcing permissions onto protected objects. Security Explorer enables you to lock down permissions faster and easier.
Enterprise Reporter Suite integration
Quickly take remediation action from within the Quest Enterprise Reporter user interface to modify or remove any inappropriate permissions. Enterprise Reporter Suite paired with Security Explorer combines the reporting and remediation capabilities you need to facilitate security and compliance initiatives, enabling you to stay ahead of security vulnerabilities to prevent breaches.
Advanced security and permissions
Back up and restore permissions, without having to restore data, to easily baseline access controls and revert to that baseline at any time. Recover from accidental or malicious changes, and ensure that compliance requirements are enforced.
Complete reporting
Export a database or spreadsheet listing the permissions on items anywhere in the directory tree. Filter results to show only permissions that differ from the parent folder when exporting permissions. Perform targeted searches for all locations that a particular group or user has access across the network and export this data to create ad-hoc security reports.
Intuitive access controls
Migrate access controls, and to clean up access post migration. Because Security Explorer can back up and restore security settings to an alternate location, you can be sure that necessary access is in place on the new server(s). This shortens migrations and provides a smooth post-migration user experience.