PreSonus Studio One 4 Professional 4.1.1 x64 WIN.OSX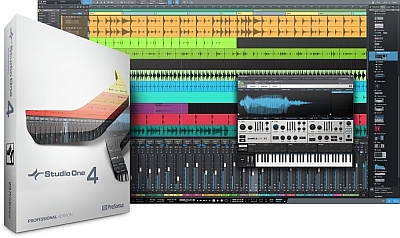 PreSonus Studio One 4 Professional 4.1.1 x64 WIN.OSX | 316 MB
PreSonus announces the release of the fourth major upgrade to the Studio One sequencer.
To create sketches in PreSonus Studio One 4, the new Chord Track tool has appeared, where harmony is automatically recognized from audio or instrumental tracks and exported into a chord sequence for Harmonic Editing.

The drum module Impact turned into Impact XT, with the addition of 20 new features, the Sample One Sampler turned into Sample One XT, now you can not only capture any sound, but also do anything with it.
The pattern sequencer is integrated with the rest of the tracks and instruments. Added AAF support for communicating with Pro Tools, Logic, Nuendo, Final Cut Pro, Premiere and others. Together with Celemony, the ARA 2.0 specification was introduced, so that the adjustment in Melodyne takes into account the harmony of the musical composition. A complete list of dozens of innovations is available on the manufacturer's website. There are also numerous videos about Studio One 4 in the Media section.
The main feature of PreSonus Studio One 4 is the new Harmonic Editing feature that allows you to experiment with harmonies, tonalities and chord sequences. With the help of special chord tracks, the user can quickly and efficiently change the chords and tonality of the composition based on the numerous options of the Chord Selector base, as well as create new arrangements. According to the developers, the combination of the Harmonic Edition, Arranger Track and Scratch Pads makes Studio One 4 much easier to work with arrangements and record new ideas.
The built-in step-sequencer has undergone processing. New patterns, instrumental parts and automation capabilities allow you to work more effectively with drum parts within the same track.
The Musical Editor has more advanced editing capabilities along with an improved and simplified interface. The developers also added the "Drum Editor" editor to the program, which simplifies working with drum parts.
The Studio One 4 Artist and Studio One Professional editions also featured the Impact XT module, which turns the drum module Impact from previous versions into a full-fledged studio for creating bits and loops. Sample One XT sampler also received a number of improvements: now the module is not just a regular audio segment player, but an independent tool for creating new samples. Using simple drag and drop, users can quickly and easily share files between Sample One XT and Impact XT.
The fourth version also supports the AAF (Advanced Authoring Format) standard, which simplifies the transition to Studio One 4 from other DAWs. Thanks to AAF, the program can share information with Pro Tools, Logic Pro X, Final Cut Pro, Steinberg Nuendo, Adobe Premiere and other software for transferring and collaborating on projects.
Year / Release Date: 10.2018
Version: 4.1.1
Developer: PreSonus
Digit capacity: 64bit
Interface language: Multilingual (Russian is absent)
Tabletka: present
System requirements: Windows 7 x64 / x86 SP1 + platform update, Windows 8.1 x64 / x86
Intel Core 2 Duo or AMD® Athlon ™ X2 processor
(Intel Core i3 or AMD Athlon X4 or better recommended)
Microsoft Visual C ++ 2017 Redistributable Package (x64)
Mac OS X 10.8.5 or higher
Intel® Core ™ 2 Duo processor
(Intel Core i3 or better recommended)