Overloud Gem Comp670 v.1.0.0 MacOSX-R2R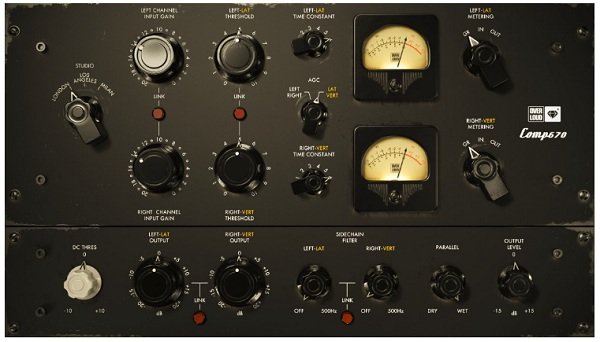 Overloud Gem Comp670 v.1.0.0 MacOSX-R2R | 259 MB
Overloud released their version of the emulation of vintage and very popular tube compressor / limiter Fairchild 670 – a plugin called Comp670.

Main characteristics:
Hyper-realistic simulation of the original device thanks to 4th generation dsp technology
Three models in one plugin – emulation of three different models with their own dynamic features and color of the sound.
Ability to use for parallel compression
Soft-knee / hard-knee control – soft and hard knee control with additional DC Threshold control
Sidechain Filters (Sidechain)
Meter Calibration: Calibrate a VU Meter with 4 Different Sensitivity Characteristics
Multi-level repeat and undo
A / B comparison of options
A variety of preset presets developed in real mixing sessions.
Scribble Strips: the function allows you to take notes anywhere on the plug-in panel
The trimmer inside the original block allowed to change the compression characteristic from soft to hard knee, by changing the bias current of the feedback amplifier. In the Comp670 plug-in, this feature is also implemented and allows you to quickly customize the operation of the compressor for specific needs.
Year of manufacture: 10.2018
Version: 1.0.0
Developer: Overloud
Platform: iNTEL
Format: APP, AU, VST, VST3, AAX
Interface language: English
Tablet: Keigen (Windows emulator required)
System requirements: Macintosh® Intel Core i3 1.4GHz with 4Gb of RAM, 1280×800 video. Mac OS X 10.6 Snow Leopard and above are supported.