Microsoft Visual Studio 2017 Build Tools 15.9.3 x86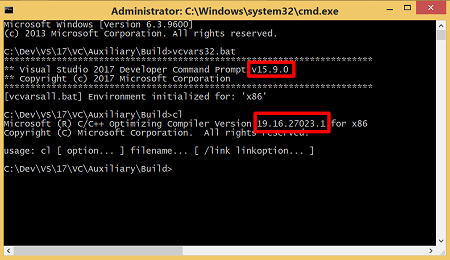 Microsoft Visual Studio 2017 Build Tools 15.9.3 x86 | 19.05 GB

Year / Release Date: 2018
Version: 15.9.0-15.9.3
Developer: Microsoft
Developer website: http://www.visualstudio.com
Bit size: 32bit (some components are in 64bit-n version)
Language: English + Russian
Tabletka: not required
System requirements:
Operating system:
Windows 10 version 1507 or higher: Home, Professional, for educational institutions and Corporate (release with long-term service is not officially supported but works in practice)
Windows Server 2016: Standard and Datacenter
Windows 8.1 (Update 2919355): Basic, Professional, and Corporate
Windows Server 2012 R2 (Update 2919355): Essentials, Standard, Datacenter
Windows 7 Service Pack 1 (with the latest Windows updates): Home Premium, Professional, Enterprise, Ultimate.
Equipment:
Hard disk space: from 1 GB to 10 GB, depending on the installed components.
At the request of the workers, Microsoft broke down with the installer of the build tools itself.
Unlike a full studio, this installer does not have to install VS IDE Core and, accordingly, through BuildTools you will not install a visual development environment. Through this, an attempt is made to reduce the weight of the installer and reduce the size and impact on Windu. BuildTools does not provide any additional features (i.e., it's like "toolchain from small-sized ones" … it would seem to me that this modification should be called so that everything would be clear at once … but apparently the desire to be unique and inimitable prevents them from quietly using available terms).
Installation:
• Disconnect from the Internet … so that the installer does not download the list of installed components for the most recent version … the one that may not yet exist in the distribution. If this happens, the installer may not have enough of what is in the distribution and errors with downloading may appear.
• Then run Setup_BuildTools .cmd, where X specifies the version number you want to install (ie, 15.9.X)