MAGIX Sound FORGE Audio Studio 13.0.0.45 x86/x64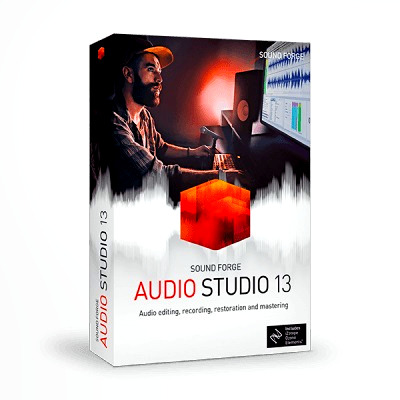 MAGIX Sound FORGE Audio Studio 13.0.0.45 x86/x64 | 522 MB
Sound Forge Audio Studio is a powerful audio editor, contains everything you need to record, encode, edit and restore audio on a PC.
With this program you can add sound effects, mix audio, synchronize audio with video, create your own loops and samples and much more. Sound Forge Audio Studio makes it easy to capture sound from almost any source. Simply plug a microphone or instrument into your computer's sound card and click the Record button. You can also import audio CDs and MP3s or use the Vinyl Record and Restore feature to digitize your vinyl, tape and other analog sources.

Simple interface: Editing drag-and-drop. Use basic commands Cut, Copy, and Paste. Upgraded interface
Live recording: Record vocals, keyboards, guitars – almost any instrument. Voice recording for video track. Real-time audio level monitoring.
Mixing and effects: Mixing audio tracks, leveling and creating your own faders. More than 30 effects: equalizer, reverb, delay and chorus. Over 1001 audio effects
Powerful editing tools: Remove clicks, noises and other extraneous sounds on a recording. Setting audio levels, removing unnecessary parts of the audio and more. Synchronization of audio and video.
Exporting and burning to CD: Transferring works to MP3 for playback on mobile devices. CD recording. Broadcast finished projects online.
Features:
• Built-in disc burning function.
• Easy editing and navigation.
• Voice recording for video.
• Non-destructive editing in real time.
• Fully customizable toolbar.
• Multitasking background processing.
• Supports ASIO driver.
• Supports audio quality up to 32-bit floating point, 192 kHz.
• Customizable layout windows.
• Unlimited Undo / Redo.
• Disaster recovery.
Supported formats:
• Import: AAC, AA3, AIFF, AU, AVI, DIG, FLAC, SD, IC, MP3, OGG, OMA, PCA, QuickTime, RAW, SND, SFA, VOX, w64, WAV, WMA, WMV.
• Export: AAC, AA3, AIFF, AU, AVI, DIG, FLAC, ITC, MP3, OGG, RealAudio, PCA, RAW, RealVideo, QuickTime, VOX, w64, WAV, WMA, WMV.
Year / Release Date: 01.2019
Version: 13.0.0.45
Developer: MAGIX
Digit capacity: 32 \ 64bit
Interface language: MULTi (no Russian)
Tabletka: present
System requirements: WiN 7+ 32 \ 64 \ Processor: 1.4 GHz RAM: 512 MB Graphics: Onboard, min. resolution 1024 x 768.