macOS Mojave v.10.14 with Clover v.10.14 (18A391)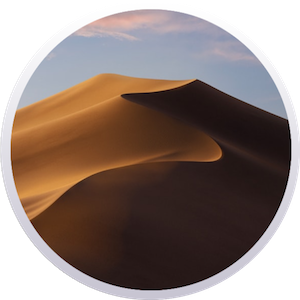 macOS Mojave v.10.14 with Clover v.10.14 (18A391) | 6.25 GB
Dark mode will help not to be distracted from work. Because all the important content is in the spotlight, and the toolbars and menus go into the shadow. Turning on the Dark Mode in the "Basic" section of the System Settings, you will create a beautiful, minimalist workspace that is pleasing to the eye – in all respects. Dark mode works in both applications built into Macs and those created by third-party developers.

Dynamic desktop
Lives according to your time.
Two new desktop themes change depending on the time of day, wherever you are.
Stacks feature
Decent organization of files.
The Stacks feature helps maintain order on the desktop by automatically sorting files into groups. Files can be sorted by type: images, documents, tables, PDF files and so on. In addition, they can be grouped by date. And if you use metadata, for example, the names of companies-customers, the "Stacks" function will decompose files for different projects. To see which files are collected in a group, slide two fingers on the trackpad or one on the surface of the mouse with Multi-Touch support. Click to expand the group and open the desired file.
New look for the search.
Finder in macOS Mojave has become even more functional. Now the file can be found in its appearance. Immediately see all his metadata. And work with him, without opening in the application.
Work with the file without opening it.
Now, pressing the spacebar, you can not only view the file, but also perform other actions, the set of which depends on the file type. You do not need to open the file in the main application. For example, you can add comments to a PDF file, rotate a photo, crop an image, or even audio and video. And when everything is ready, the file can be published or sent to friends directly from the "Quick View" mode.
Screenshot
Easier fast.
In macOS Mojave, you can open screen capture tools with one keyboard shortcut. Simply launch the new Screenshot utility or press Shift-Command ? 5. In a convenient menu, new tools are available to record video, as well as some configuration options. For example, you can set a timer, turn on the display of the cursor and choose where to save the finished screenshots. Take a picture – its thumbnail will move to the corner of the screen. You can leave it there, and the file will automatically be saved in the selected folder. And you can drag a screenshot into a document or click on a thumbnail to add comments to the file and send it without saving it on your computer. This not only simplifies the work, but also saves space.
Camera Continuity feature
Photo immediately on your Mac.
If you take a picture or scan a document on the iPhone, the image will appear on the screen of a nearby Mac. To do this, select the "Insert Photo" command in the "File" menu. You can take a picture of any object on your desk and instantly insert a photo into your Pages document. Or scan the check – and the aligned image will immediately appear in the Finder as a PDF file. Camera Continuity is supported in the Finder, Mail, Messages, Notes, Pages, Keynote, and Numbers. This is another example of the well-coordinated work of the iPhone and Mac. RDrive Attached!
Year of release: 2018
Version: 10.14 [18A391] ? DUMBAZO ?
Developer: Apple Inc.
Developer site: http://www.apple.com
Platform: Intel only
Interface language: Russian + English
Tablet: The program is treated (does not require data entry / enter any data)
System requirements: List of supported models:
MacBook (Early 2015 or newer)
MacBook Air (Mid 2012 or newer)
MacBook Pro (Mid 2012 or newer)
Mac mini (Late 2012 or newer)
iMac (Late 2012 or newer)
iMac Pro (2017)
Mac Pro Metal-capable GPU (Late 2013, plus mid 2010 and mid 2012
DUMBAZO ? RUSSIA ?
Bootable USB Flash Drive with macOS Mojave 10.14 FOR ANY GAME PC Hack + Clover Only processors with SSE4.2 are supported
FORGET ABOUT THIS, NOW SUPPORTED AND PROCESSORS WITHOUT SSE4,2 TECHNOLOGY
SUPPORT FOR OLD VIDEO CARDS
Metal cards supporting Metal (Intel HD4000 and above, nvidia kepler and above, AMD GCN-based).