Lucion Filecenter Professional Plus v.10.2.0.31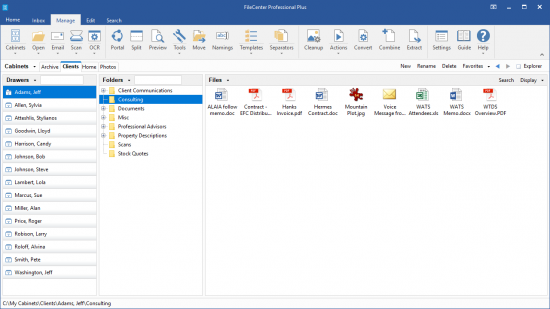 Lucion Filecenter Professional Plus v.10.2.0.31 | 230 MB
FileCenter is fast becoming the top scanning and document management software, especially in small offices. FileCenter combines easy scanning and file organization with powerful PDF creation and editing. It also includes OCR, Search, and a brandable Client Portal. For online file access, it even integrates with popular cloud services like Google Drive, OneDrive, Dropbox, and more.

Main Features:
Manage & Organize Your Files
FileCenter uses a familiar Cabinet/Drawer/Folder design for organizing files. But if you prefer a traditional Explorer layout, FileCenter also provides an Explorer View.
Scan to PDF or TIFF
FileCenter features one-click scanning for efficiently moving paper to PDF. Works with most desktop scanners (TWAIN compatible).
Automatically OCR All Scans
FileCenter integrates OCR as a seamless part of the scanning process. Literally go from paper to searchable PDF in one mouse click. Use the built-in engines or your own favorite.
Stack, Join, and Split PDFs
With FileCenter Professional, "stack" or join PDF files with drag-and-drop simplicity. You will also be able to split a single PDF into multiple files … without opening it.
Easy Network Sharing
Sharing files on an office network couldn't be easier. Just put your cabinets on the server. All users will see the same files and get all of the changes instantly.
Access Files in the Cloud
FileCenter is fully compatible with most cloud service providers. Access your files anywhere – on the web, on your smartphone or tablet, or on other cloud-connected computers.