Honda DVD Satellite Navigation System v3.C0 Europe 2018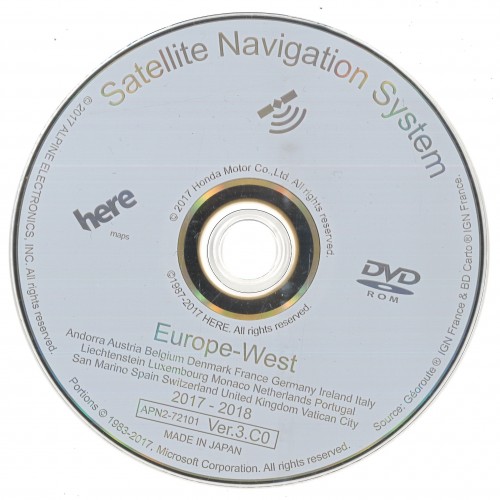 Honda DVD Satellite Navigation System v3.C0 Europe 2018 | 12.61 GB
Honda Satellite Navigation DVD V3.C0 2017 – 2018 (Western + Eastern Europe)
Roads are constantly changing – that is why, in the wake of them, our cards are constantly changing. The latest update of maps of Europe in the Honda navigation system will allow you to feel equally confident on the roads as during business trips and traveling.

Modern maps provide information on the best routes, new roads, reliable detours, nearby gas stations, hospitals, restaurants and other facilities.
Any reprogramming of the system can damage the individual electronic components of the car (DVD drive). You do everything only at your own peril and risk!
Add. Information: Images are completely ready to use. Everything is patched. For recording, use something not old (for example ImgBurn 2.5.8).
Use a DVD + R DL (double layer) disc.
The maximum write speed is 4x. After recording, be sure to start checking the contents of the disk. If during the process of checking any error jumps out, do not even think of pushing such a disk into the machine. If "writes that the disc is not good" try recording a disc on another device (another DVD drive)!
ATTENTION: During the upgrade, the engine must be constantly turned on !!!
Instruction:
Insert the recorded disc In the GU. The update process will start automatically.
If this does not happen:
– press and hold for 5 seconds keys: MAP + MENU + CANCEL / BACK
– go to "Detail Information & Settings"
– go to "Version"
– click "Download"
Year / Release Date: 2018
Version: 3.C0 Europe
List of countries on the disk:
DVD 1 Eastern Europe:
Austria, Bulgaria, Croatia, Czech Republic, Poland, Denmark, Estonia, Finland, Germany, Greece, Hungary, Italy, Latvia, Liechtenstein, Lithuania, Norway, Romania, San Marino, Slovakia, Slovenia, Sweden, Switzerland, Vatican
DVD 2 Western Europe:
Andorra, Austria, Belgium, Denmark, France, Germany, Ireland, Italy, Liechtenstein, Luxembourg, Monaco, Netherlands, Portugal, San Marino, Spain, Switzerland, England, Vatican
Supported languages: English, German, Italian.
Compatibility with systems:
HONDA (Navigation disk starts from 3.xx)
Legend 2006 – 2010
Accord 2006 – 2015
CR-V 2007 – 2013
Civic 2006 – 2011
CR-Z 2010 – 2012
Insight 2009 – 2015