Edrawings Pro 2017 Suite Revision 12.2018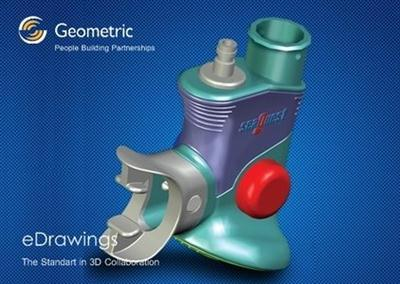 Edrawings Pro 2017 Suite Revision 12.2018 | 992 MB
eDrawings for MultiCAD is a series of products from Geometric Ltd. which enables users to publish complete design information from multiple CAD platforms into the industry-standard eDrawings format and email them to multiple review recipients for feedback and reviews. The products are easy to use and are currently available for Autodesk Inventor, Pro/ENGINEER Wildfire, DS CATIA, Siemens Solid Edge, Siemens PLM NX and Creo Parametric.

Users can publish and email highly compact, self-extracting eDrawings to multiple reviewers with eDrawings Professional. With the Professional version of the product, you can:
– Share product designs with review-enabled eDrawings and collaborate with your extended team
– Receive feedback on product design data from an unlimited number of recipients
– Manage, track, and merge comments from different team members
– Provide anyone with access to design data with self-extracting eDrawings
– Examine internal details of parts and assemblies with dynamic cross-sectioning
– Measure the geometry in part, assembly, and drawing files when dimensions are absent
– Disable the measurement feature to protect sensitive design data
What's new in eDrawings 2017 Suite (Revision 03.12.2018):
– Added installers
eDrawingsForProE_Creo_11_0_64Bit.exe
eDrawingsForCatiaV5_10_9_0_101_64bit.exe
eDrawingsForNX_11_0_0_101_64bit.exe
eDrawingsForSolidEdge_10_9_0_101_64bit.exe
Product: Geometric eDrawings
Version: 2017 Pro (version 10.4/11.0) Suite*
Supported Architectures: 32bit / 64bit
Language: multilanguage
System Requirements: PC
Supported Operating Systems: The same OSfor the version of software that you are using.
Software Prerequisites: Autodesk Inventor 2010-2018, PTC Creo Parametric 1.0-5.0, Siemens PLM NX 6.0-12.0, ProE WildFire 2.0-5.0, DS CATIA V5 R20-R27, Siemens Solid Edge ST2-ST10.