DeskArtes Sim Expert v11.1.0.4 (x64)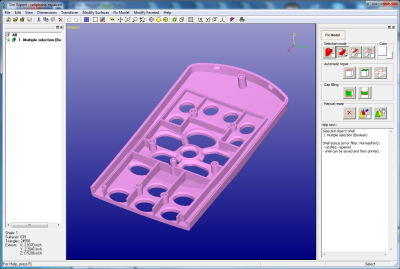 DeskArtes Sim Expert v11.1.0.4 (x64) | 133 MB
Sim Expert is a dedicated tool for preparing 3D models for Simulation applications with triangle count reduction and triangle aspect ratio improvement functions. DeskArtes Expert Series STL model repair technology is fully available with Sim Expert to prepare faceted models for accurate simulation.

Optionally, you can add 3D CAD Import Translators to triangulate and auto-repair standard and native 3D CAD models Simulation applications. Import translators include STEP, CATIA 4/5/6, CATIA CGR, NX Unigraphics, SolidWorks, Solid Edge, Inventor, JT and Creo/ProE input formats with new optimized triangulation for simulation applications.
Sim Expert includes the same powerful viewing, measuring and communication tools available with the free View Expert.
Reduce triangle count for faster simulation.
Sim Expert fast triangle decimation functions allow you to prepare 3D faceted files for any simulation system. Detailed user control over the reduction process enable you to get the optimal result for your simulation software while keeping the 3D model shape.
Improve triangle aspect ratio for more accurate simulation results.
Sim Expert commands can effectively remove thin triangles from the faceted data. Triangle refine, reduce and smoothing functions allow you to prepare all models, from CAD systems to scanned data, for accurate simulation.
Whats New:
Updates: official site does not provide any info about changes in this version.