DATAKIT CrossManager v.2018.4 (build 2018.10.05) (x64)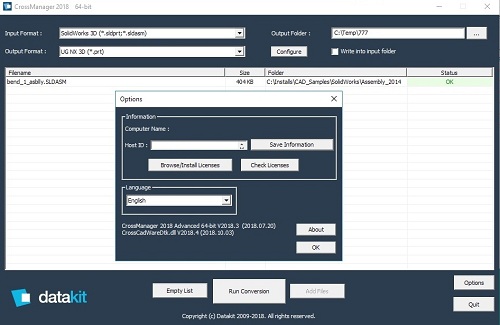 DATAKIT CrossManager v.2018.4 (build 2018.10.05) (x64) | 105 MB
Translator from different CAD-formats
Cross Manager is a stand alone software that converts files from most CAD formats.
With the Cross Manager, you need it.

Inputs:
3Shape DCM, ACIS, CADDS, CATIA V4 2D, CATIA V4 3D, CATIA V5 2D, CATIA V5 3D, CATIA V6 2D, CATIA V6 3D, Cercon, CEREC – Sirona Dental CGR, I-deas, IGES, Inventor, JT, Parasolid, PLMXML 3D, Procera ProE / Creo Parametric 2D, ProE Pro Creo Para 3D, Rhino 4, Rhino 5, Robcad, Solid Edge, SolidWorks 2D, SolidWorks 3D, STEP, UG NX 2D, UG NX 3D, VDA.
Outputs:
CIS, CADDS, CATIA V4 3D, CATIA V5 3D, CGR, COLLADA, DXF, IGES, JT, Open CASCADE, Parasolid, PDF 2D, PDF 3D, Robcad, SolidWorks 3D, STEP, STL, Unisurf, VDA, VRML.
Year / Release Date: 2018
Version: 2018.4.0 Build date 2018-10-05
Developer: DATAKIT
Developer website: http://www.datakit.com
Digit capacity: 64bit
Interface language: Multilingual (Russian is present)
Tabletka: Present (TeAM SolidSQUAD-SSQ)
System requirements: Windows 32-bit or 64-bit.