Avanquest Expert PDF Mac Pro v11.0.0.13 Multilingual (Mac OSX)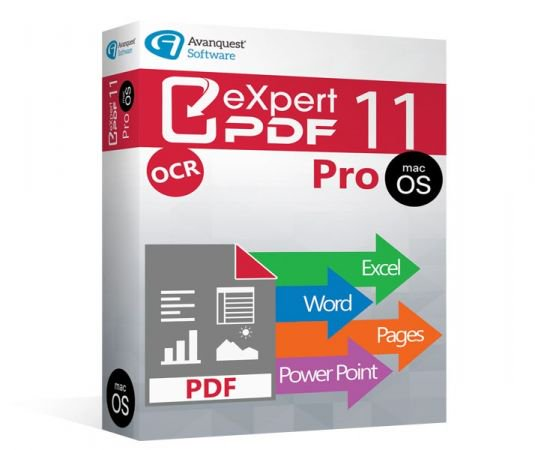 Avanquest Expert PDF Mac Pro v11.0.0.13 Multilingual (Mac OSX) | 470 MB
Although PDF is the "universal" document format for professionals and students, the options are limited on the editing front. But now Expert PDF 11 Mac Pro offers you the simplest and most complete solution possible to create, edit and convert all of your PDF documents! You will be able to edit all of your PDFs by using the many features offered by the software program, such as adding text, links, signatures or annotations. You now have as much control over your PDF documents as you do with your Word documents. In this Pro version, you will also be able to get up to some technical trickery with your PDFs thanks to Optical Character Recognition (OCR) technology.

Easy, fast and accurate editing of your PDFs
– Edit your PDFs
– Convert your PDFs
– Add annotations
– Create forms
– Protect your PDF documents
– Share your PDFs
In the Pro version:
– Optical Character Recognition (OCR)
– Data extraction
– Batch processing
Convert your PDF:
When converting a PDF on Mac, it is common to encounter some layout problems. With eXpert PDF for Mac, you can convert your PDFs without reformatting or retyping. The visual elements, texts and layouts are captured exactly like the original and becomes completely modifiable. One click is enough to convert any PDF to:
– Pages, Word, .txt, .rtf
– Excel
– image (PNG, JPEG, GIF, BMP, TIFF)
– HTML
– PowerPoint
Edit your PDFs:
– Edit text: Edit entire paragraphs of your PDFs and then delimit the different areas by changing the font style, color and size of the text.
– Edit images: Here too you have considerable scope of action and can add the images you want, copy and paste them or even resize, replace and rotate them.
– Edit pages: Organise your documents at will by inserting and deleting pages. You can also crop, extract, adjust and finally add page labels.
Add annotations to your PDFs:
This feature can be handy for exchanging comments with your colleagues for instance. You leave the document unchanged but simply indicate your ideas and proposed changes in the area concerned. Annotations can take the form of stamps, drawings, text boxes, and so on.
Create and customise your PDF forms:
This option is a big time-saver since it allows you to create and fill out your forms online, directly on the PDF. This does away with the need to print, fill in with a pen and then scan again. When you create a form, you are free to fill in the editable areas, choose the background color, the font, the width of the columns, and so on.
Protect, share and sign your PDFs
You stay in control of your PDFs. You can choose to protect them by means of a password or an authorization. You can also add your digital signature to give them official value. If you then want to share your documents, you can send all your PDFs to your Dropbox from the software program.
Here are all the options available when you want to edit a PDF with Expert PDF 11 Mac:
– Add and edit: Text, images, pages, links or watermarks.
– Annotate: Complete, highlight, comment, draw, stamp.
– Convert and create: Quick conversion, extract, merge, create forms, template library. PDFs can be converted into the following formats: Word, Excel, PowerPoint, HTML, JPEG, etc.
– Protect: sign, add a password or autorisation, share, print.
Optical Character Recognition (OCR):
OCR technology recognises text, paragraphs, images, and more in the PDF and creates an identically replicated, editable scan. You will be able to edit, delete, copy, paste, insert text and images, etc. You will also be able to convert scanned PDFs/images into fully searchable and editable PDFs thanks to OCR technology.
The languages recognized by OCR in Expert PDF 11 Pro Mac: English, French, German, Greek, Italian, simplified Polish, Portuguese, Romanian, Russian, Slovak, Spanish, Turkish, Cyrillic, Ukrainian, Dutch, Hungarian, Chinese, Korean, Japanese, traditional Chinese, Thai, Vietnamese, Bulgarian, Catalan, Czech and Croatian.
Extracting forms:
Although it is possible to create and complete forms in the standard version, the Pro version of Expert PDF 11 Mac offers you more possibilities. In fact, you benefit from form automation technology whereby the data from the forms in your PDF are extracted for display in an Excel document. You will also be able to extract your forms in batches.
Creating PDFs from other formats:
The OCR plugin allows you to create PDFs from a text document (.txt) or an image file (.rft). The purpose of this feature is to be able to combine several files of different formats in a single PDF. You can then edit the PDF to your heart's content by adding/deleting text, images etc.
Conversion of PDF files:
In addition to converting your PDF to Word, Excel, PowerPoint, JPEG, HTML file formats and more, the Pro version of Expert PDF 11 Mac allows you to:
– Divide your PDF into several documents. You can extract the number of pages you want without affecting your original file
– Convert your PDFs to PDF/A (handy for archiving your PDFs and retaining their formatting)
– Batch conversion: To save time and simultaneously convert several PDF files.
System Requirements:
– Mac OS X 10.10 Yosemite and higher
– Processor: 1Ghz or higher
– RAM: 512MB or higher
– Free Disk Space: 500MB or higher.