ATIR Strap / Beamd 2018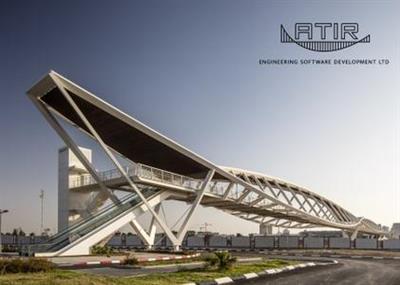 ATIR Strap / Beamd 2018 | 437.9 mb
ATIR Engineering Software Development Ltd., is pleased to announce the availability of STRAP 2018 is a suite of finite element static and dynamic analysis programs for buildings, bridges and other structures

BEAMD is the ideal partner to STRAP. A model analyzed and designed by STRAP may be interactively detailed using BEAMD. This close integration also permits the design of the beams according to earthquake code requirements.
BEAMD is available for BS8110, EC2, ACI, IS456, CSA23.3 and other codes.
About STRAP. STRAP, our flagship program, covers the entire design process from analysis to the production of drawings and schedules.
The program includes:
– Design modules for calculating structural steel, reinforced concrete and post-tensioned elements subjected to static, dynamic, wind and seismic loads.
– A bridge load and analysis module.
– AutoSTRAP, a BIM (Building Information Modeling) module to create a structural model from structural drawings.
STRAP offers the engineer a comprehensive, authoritative and affordable tool for use in six different languages and is fully compliant with many international building codes.
Our satisfied clients include thousands of prestigious engineering firms, small consulting offices, government organizations and academic institutions around the world. These clients have relied on our programs to design many diverse projects such as concrete and steel skyscrapers, commercial centers, bridges, shells, tanks and dams…
About ATIR Engineering Software Development Ltd. ATIR Engineering Software Development Ltd. was founded in 1983 with the aim of developing structural analysis and design software that would be both sophisticated and comprehensive but at the same time easy to use for the professional engineer.
During the last three decades ATIR's staff of software and structural engineers, with the help of academic experts, have created versatile and powerful structural engineering programs for the construction industry.
Product: ATIR STRAP / BEAMD
Version: 2018 build 105 / build 104
Supported Architectures: x64
Website Home Page : http://www.atirsoft.com
Language: english
System Requirements: PC
Supported Operating Systems: Windows 7even or newer
Size: 437.9 mb