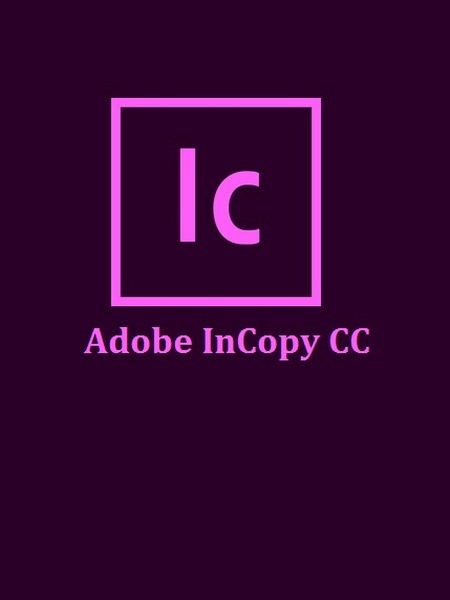 Adobe InDesign CC 2019 v14.0.1.209 (x64-x86) ISO by M0nkrus | Size 875 MB / 818 MB
Information:
Release Date : 2018
Languages : English / Multilanguage
Operating System : Windows 7 / Windows 8 / Windows 8.1 / Windows 10
System Type : 64-bit

Adobe InCopy CC software is a professional writing and editing solution, that tightly integrates with Adobe InDesign software.It enables a parallel workflow between design and editorial staff, precisely fit copy to layout, and efficiently meet editorial deadlines.You will be able to deliver content that will support both print and digital publications, thus simplifying the process of designing unique content for several audiences.Adobe InCopy CC includes workflow technology that enables designers and editors to work on the same InDesign document simultaneously without interfering with each other's work.Adobe InCopy CC is designed to scale to the needs of small, medium, and large content publishers. With Adobe InCopy CC writers, editors, and designers can work simultaneously on a single document without overwriting each other's contributions. Now with support for Retina displays, new ways to find fonts quickly, and other features to help you work smoothly.The Adobe InCopy CC software has three viewing modes: Story mode, Galley mode, and Layout mode. The Story mode is for text reading and editing in a screen-wide, word-processor view without the publication page formatting.The Galley mode view displays the text in a word processing view without page formatting but with line numbers and the same line breaks as in the layout. Both Galley and Story views reveal text that is overset in Layout view, and show the names of the style sheets applied to the text; but do not display the actual formatting. The Layout mode shows the true page design layout displaying every format applied to the text and all the images.

What is changed by the author of the assembly:
======================================
– Product updated to version 14.0.1.209
– Build assembled on the basis of a standalone installer Adobe version 4.7.0.400, inaccessible to the public.
– The original installer of the program has been significantly redesigned and optimized. In particular, the choice of the installation path and the program interface language is available.
– From the installer, with the exception of the required minimum, the Adobe Creative Cloud module is cut, installed by the original installer without fail.
– From the installer with the exception of the required minimum cut Adobe Desktop Common module, installed by the original installer without fail.
– Unlocked the ability to install the program on Windows 8.1 and Windows 10 versions up to 1703.
– The program has already been treated. Can be used immediately after installation. The start window (start screen) is working.

http://nitroflare.com/view/9C051DD1AEC8FDA/Meera169_Adobe.InDesign.CC.2019.v14.0.1.x64.iso
http://nitroflare.com/view/B87C19B986CD62E/Meera169_Adobe.InDesign.CC.2019.v14.0.1.x86.iso

https://rapidgator.net/file/346afe478db5ddfa2dc08b33eba77bc0/Meera169_Adobe.InDesign.CC.2019.v14.0.1.x64.iso
https://rapidgator.net/file/8d971ba5430792febba2e539136e3e22/Meera169_Adobe.InDesign.CC.2019.v14.0.1.x86.iso